I've found the best fashion subscription boxes, and it's no wonder why so many stylish women love these ones. Fashion subscription boxes are so convenient. Not only does it save time by having items based on your style preferences picked for you, but it's also a great way to discover new brands.
After all, who wouldn't love getting new clothes delivered to their doorstep? We get everything from groceries to tech to toilet paper delivered via subscription – so why not fashion, too?
Receiving carefully curated outfits delivered to my door is a luxury that is becoming more of the norm. Thankfully, many awesome fashion subscription boxes out there can help keep your wardrobe updated without dragging you to the store.
Not sure which subscription box is right for you? Keep reading to discover 13 of the best fashion boxes that stylish women swear by.
13 Best Fashion Subscription Boxes You Need To Try This Year
Fashion subscription boxes are a great way to get a refresh on your outfits. Because even the most refined capsule wardrobe needs something fresh for the season, from time to time.
With a fashion subscription box, you'll get a curated selection of clothes (and sometimes accessories) delivered to your door every month.
No more standing in front of your closet feeling frustrated! Plus, it's a great way to discover new brands and styles.
1. Gwynnie Bee
Gwynnie Bee is a fantastic rental service that carries sizes for women from size 0-32.
What's not to love about a size-inclusive subscription box, right?
They have over 1,000 brands and 30,000 items to choose from, and membership starts at $49 per month, giving you unlimited rentals with free shipping and returns.
Their collection includes everything from casual dresses and denim to workwear and formal gowns, and if you find something you love, you can buy it at a discounted price.
2. Rent the Runway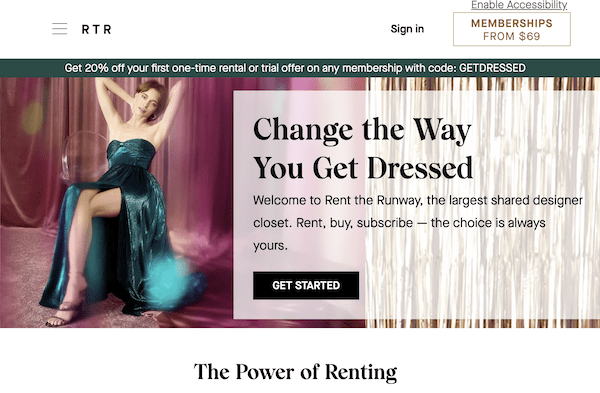 As the name suggests, Rent the Runway is the destination for the designer dress and accessory rentals.
They have over 600 designers and 100,000+ items to choose from! Prices start at $69 per month with free shipping and return included.
Rent the Runway is perfect for special occasions when you need an outfit that makes a statement but don't want to spend a fortune on something you'll only wear once (I'm looking at you, bridesmaid dresses).
They carry designer labels like Badgley Mischka, Herve Leger, etc, so whether you're attending a black tie affair or want to dress up for date night, they've got you covered.
Rent The Runway is a great option if you are looking for high-end clothes. This fashion subscription box comes with stylish, premium clothing you'll love.
3. Basic Woman
Every good Capsule Wardrobe needs quality basics, and Basic Woman delivers just that!
Offering sizes XS-3XL, this is the best fashion subscription for sustainable basics.
As a client, you'll receive one T-shirt or tank top, underwear, and a pair of socks in each delivery, all made from sustainable fabrics like bamboo.
A nice touch, the packaging is made from recycled bottles!
Health-wise, you should replace your socks and underwear regularly! And this fashion basics subscription makes doing so and staying fresh, easy.
4. Just Fab
Just Fab is the best fashion subscription for shoes! Simply sign up for a membership and make your feet happy with new kicks every month!
5. Fabletics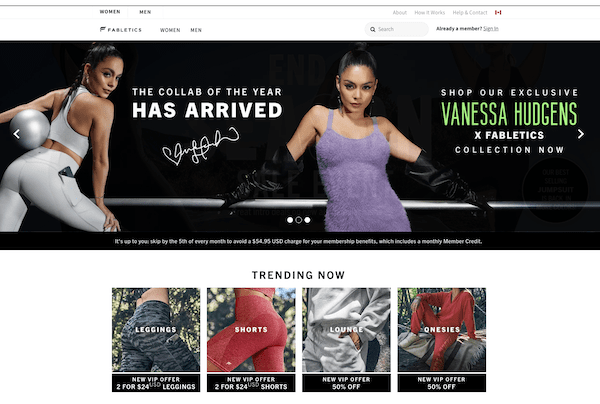 You've probably heard of Fabletics, but if you haven't, it's an athleisure brand created by Kate Hudson.
Their membership starts at $54.95 monthly and offers exclusive discounts and free shipping on all orders.
You can shop for collections or individual items, and they have a huge range of sizes from XXS-3XL.
If you work out regularly or just like to dress comfortably, Fabletics is an excellent option for you.
I've personally tried Fabletics before and was happy with the quality of their clothes. They're also super comfortable, which is important when working out (or pretending to work out, no judgment).
You get everything from sports bras to leggings and more.
6. Frank And Oak
Frank And Oak is a Canadian men's and women's clothing brand focusing on sustainable and ethical practices.
With the frank and oak membership, you can receive outfits that a stylist handpicks, or you can decide to shop by yourself.
I always like the option of a stylist picking clothes for me; when that option is available, it's always fun to see what they come up with.
Plus, you'll be surprised to pull off the looks with the curated pieces you never thought you could.
Their prices are slightly higher than some of the other brands on this list, but their clothes are really well made and will last a long time.
You can also feel good about supporting a brand that is doing its part to be sustainable and ethical.
Frank And Oak have a monthly subscription box where you receive three to five items. If you like the pieces, you can keep them and pay for what you keep.
However, if you return the pieces, you get to pay a $25 styling fee.
Service starts at $79 per month, giving you exclusive discounts and free shipping on all orders.
7. Stitch Fix
Stitch Fix is one of the most well-known styling services!
This popular fashion subscription box service will send you five hand-picked clothing items based on your style preferences (that you fill out in a detailed quiz when signing up).
There is a $20 upfront styling fee for the style expert to select pieces for you, but this fee is put towards the items you end up picking, so you've got nothing to lose, really.
Prices start at $20 per item, with free shipping and return included.
8. Wantable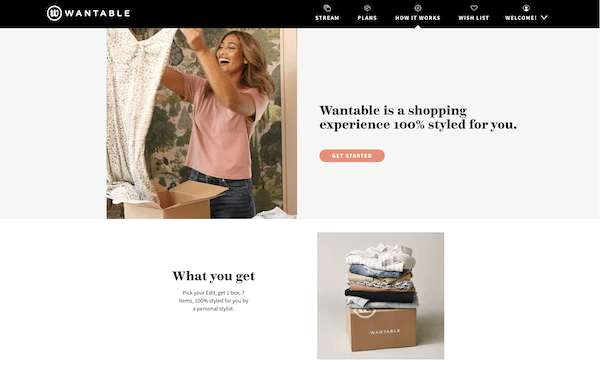 Wantable has fitness and style subscriptions for women (and men).
A monthly subscription for wantable comes with three options, style subscription, active subscription, sleep, and body.
The style subscription comes with 5-7 handpicked items based on your style profile, and you get to choose what you want to keep and what you wish to return. The active subscription is the same idea but with workout clothes instead.
You receive a discount if you keep five or more items. Their style subscriptions start at $20 per item with free shipping and return included in the price.
9. Ellie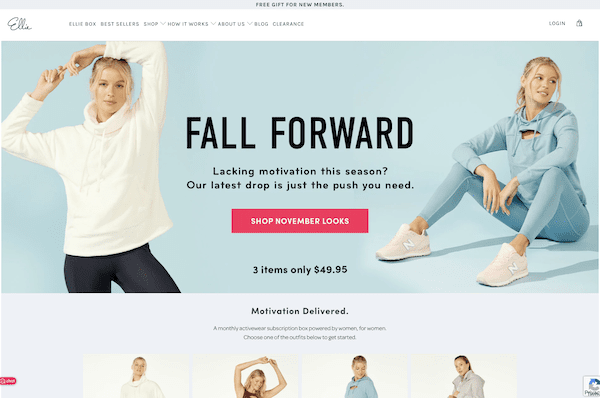 Calling on all fitness lovers, here is one for you. With Ellie, you can get a new workout outfit every month.
As an Ellie member, you can choose between receiving just a top and bottom, a complete outfit that includes a top, bottom, and sports bra, or a complete outfit and workout accessories.
What I love about Ellie is there is something new each month. They offer new collections every month, so you always have new options to choose from.
Their prices start at $39.95 monthly, with free shipping and returns included.
10. Dia & Co
This is a fantastic plus-size fashion subscription service. With Dia & Co you get a stylist who handpicks clothing based on your style profile for you to try at home.
You only pay for the items you decide to keep, and shipping and returns are always free.
Dia & Co also offers a styling fee credit if you keep all five items they send you.
For trendy and stylish plus-size clothing, prices start at $20 per item.
11. Armoire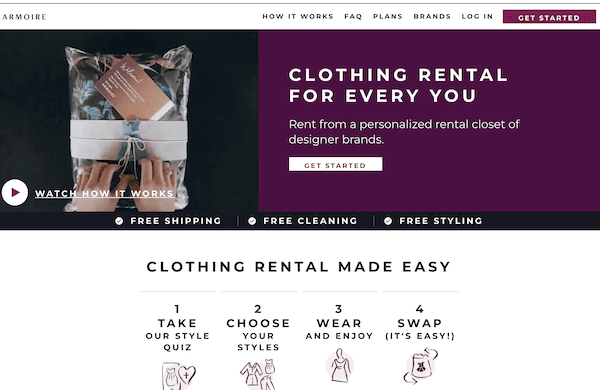 Armoire is a fashion subscription box service that I love.
They offer a monthly membership to access high-quality pieces from luxurious brands.
And guess what? They offer free shipping and dry cleaning too.
You can choose between the four items membership, the seven items membership, or the unlimited plans, where you can wear them and send them back whenever you decide.
Memberships start at $79.
12. Curateur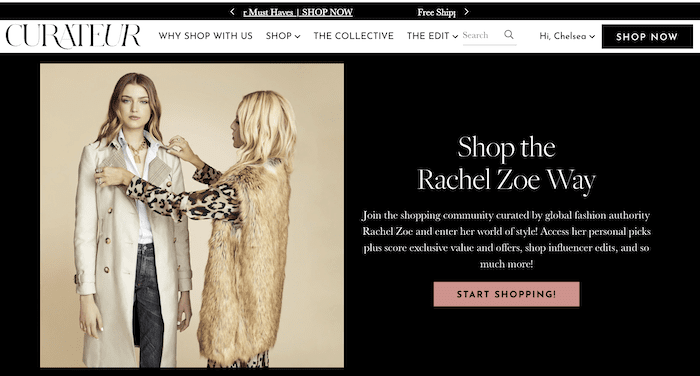 Curateur is a fashion subscription box from celebrity designer Rachel Zoe.
This is a quarterly subscription featuring 1-3 fashion items, 1-2 jewelry items, and 1-2 beauty items.
I've been a subscriber for a year, and I found that each delivery usually included something to wear, such as a silk robe, wrap or beach mu mu, along with various 14k gold jewelry items, a full-size beauty product, and sunglasses or a handbag.
13. Nuuly
If you love trendy pieces from brands like Anthropologie, urban outfitters, free people, and lots more, then you'll love the Nuuly subscription box.
The box comes with six items from your fave retailers; you can wear them and return them whenever you want.
Prices start at $88 per month with free shipping and return included in the price, plus laundry.
How to Get The Most Out of Your Fashion Subscription Once You've Picked One
Now that you know all there is to know about fashion subscription boxes, it's time to pick one (or more!) and get started on building your new wardrobe. But how can you ensure you get the most out of your subscription? Here are a few tips:
1. Be honest about your style preferences.
The more open you are about what you like and don't like, the better your stylist will be able to curate a perfect box.
2. Take advantage of the styling services offered by some companies.
These services can be a lifesaver if you're unsure how to put together an outfit or which items go well together.
3. Be patient.
It may take a few boxes for your stylist to get to know your taste, but it'll be worth it in the end.
4. Give feedback.
If you loved (or hated) something in your box, be sure to let your stylist know. This will help them fine-tune your future boxes.
5. Take advantage of discounts and promotions.
Many companies offer discounts for referrals or for subscribing for longer periods of time.
Frequently Asked Questions About Fashion Subscription Boxes
How much do clothing subscription boxes for women cost?
The cost of a clothing subscription box for women can vary depending on the type and quality of clothes you want. However, most boxes start at around $20 per month.
How often will I receive clothes via a clothing subscription box?
Most subscription boxes send out new clothes every month. However, some companies offer bi-monthly or even quarterly options.
Can I exchange or return items from my clothing subscription box?
Yes! Most companies offer free exchanges and returns so that you can try on your new clothes risk-free.
How do I sign up for a clothing subscription box?
Most companies will require you to fill out a short questionnaire about your size, style, and budget preferences. Once you've done that, you'll be able to choose from various subscription plans.
What happened to Trunk Club? Does Trunk Club Still Exist?
What happened to Trunk Club? Trunk Club was a fashion subscription box owned by Nordstrom. Trunk Club closed and ended its fashion subscription service in June 2022.
When it was active, Trunk Club cost $25- $399 per month, depending on how many items you want in your trunk.
We are happy to say that any of the boxes on this list of the best fashion subscription boxes will make excellent Trunk Club alternatives.
The 13 best fashion subscription boxes – Conclusion:
A fashion subscription box is an excellent option if you're looking for a new way to update your wardrobe.
You can try new styles and brands without commitment, and you only pay for the pieces you decide to keep. Plus, many of these services offer free shipping and returns, so you can always send back anything you don't love it.
There's no reason to wait until payday to treat yourself to some new clothes especially when there are so many options for great fashion subscription boxes out there!
With one of these services, you can have a whole new wardrobe delivered right to your doorstep or a refresh on your current one without even having to leave your house.
Whether you're looking for plus-size fashion, workout gear, or just some stylish and trendy pieces, there's a subscription box service out there for you.
What do you think? Have you tried any of the boxes on this list of the best fashion subscription boxes? Have you tried one that isn't on the list? Let us know in the comments below.
Read this next: