Recently while walking through Gastown, Vancouver, I saw a woman wearing the chicest silk skirt and knit sweater outfit.
She looked effortlessly put together as she dashed across the street in her mid-length champagne-colored silk skirt and oversized, white turtleneck sweater. I thought "I need to re-create that outfit!"
The contrast in fabrics, smooth silk on the bottom paired with cozy, fluffy cashmere on top is such a vibe.
Want to know how to re-create this look yourself? Read on to discover my shop recommendations, and to get some silk skirt and knit sweater outfit ideas now.
Silk Skirt And Knit Sweater Outfit Ideas
A silk skirt and knit sweater outfit is such a great capsule wardrobe staple for Fall.
Easily dress this outfit down with white sneakers or black combat boots by day, or dress it up with strappy heels at night. (Chefs kiss!)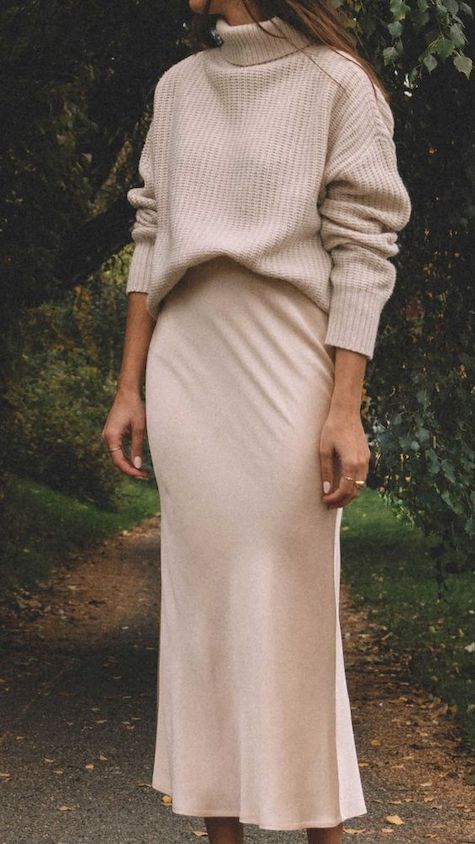 As a style editor, when working on a feature like this, I must visit multiple stores and purchase multiple versions of the items we feature.
So, come along with me as we investigate where the best silk skirt and knit sweaters can be found!
Aritzia
My first stop was an obvious choice. Aritzia never disappoints.
Aritzia is basically the mecca for cute cashmere turtleneck sweaters, after all. Plus, they tend to have lots of silk clothing, too.
I entered the store thinking I would buy the mid-length silk skirt that they had on their website. But unfortunately, it was sold out.
Not to worry, because instead, I opted for a silk slip dress. And to my surprise, there were tons of different styles to choose from.
Aritzia offers plenty of options for both silk dresses and cozy sweaters.
I chose the Clique Silk Dress by Sunday Best ($148) and then styled it with the Guell Merino wool turtleneck by Babaton in Heather Birch ($168).
This dress is made of 100% silk charmeuse.
I also picked up a Wilfred Only Slip Midi Dress in black, and styled it with the Guell turtleneck in Black.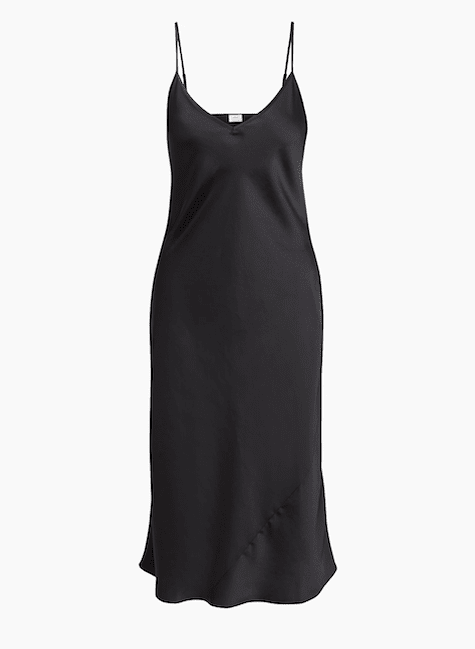 Satisfied with my Aritzia purchases, I made my way to the next store to see what we could find that would be comparable.
H&M
I don't normally shop at H&M, because I try to stay away from super-fast fashion.
Although H&M has committed to using more recycled and sustainable organic materials in their clothing in recent years, they are still a major contributor to the world's fast fashion problem.
However, for this article I wanted to ensure that I included some budget-friendly options for my readers, so I decided to pop into H&M to see what we could find.
Would they have any silk dresses? Does H&M even carry silk products?
I had a hard time finding any silk skirts or dresses. I was about to give up when I happened to find this strappy slip dress in the Divided section.
I was pleasantly surprised to see that it feels silky-soft, and has a cute drape in the back.
I love the bronze-brown color, and for $17.99, this was an easy yes for me.
But is it silk?
For $17.99, no, of course not. It is made of recycled polyester, though.
The dress itself isn't bad, but let's be honest, it is cheaply made. There is no lining to this dress, it is just a thin piece of fabric.
However, if you are on a budget, it does look nice enough, when on!
I also found this beige midi slip dress – again, not real silk, but pretty nonetheless!
Next, I was tasked to find a soft, luxurious knit sweater.
As I searched the racks at H&M, I found these two that looked absolutely gorgeous:
But when I tried the sweaters on in the changing room, I noticed they were extremely 'electric' and clingy. And, neither were soft or luxurious feeling on the skin.
Both sweaters, although they looked chic from afar, felt scratchy and cheap when on.
I must say that the $34 price tag was tempting, but the material is just not that nice. I would much rather invest that $34 towards the Aritiza one.
Silk Skirt And Knit Sweater: Aritzia vs H&M Conclusion
When it comes to quality, feel, sustainability and the way the clothing makes me feel, Aritzia is the clear winner for this silk skirt and knit sweater battle.
Not only do their designs feel more luxurious and better made, but they also have more styles to choose from.
However, when it comes to price, H&M's low prices can't be beaten. And their designs still look nice on.
But those low prices do come at the cost of quality. For me, Aritzia wins.
As I mentioned above, I would rather spend money on an item that was built to last longer, and ultimately makes me feel fancier.
But, if someone is looking at both outfits, can they even tell which one is the cheap version and which is the pricer one?
Which silk skirt and knit sweater combination do you prefer?
Let me know your thoughts in the comments!