You've come to the right place to pick up some minimalist style tips!
Here at CapsuleWardrobe.co we are all about simplified, refined style: quality over quantity any day. It's why we wrote the book on it (yes, you can get a free copy below!)
Minimalism is far from just a fashion movement, it's a well-established way of life.
Its' popularity as a fashion trend may fluctuate over the course of seasons, sometimes overshadowed by more current trends.
But its timeless traits have made it a force to be reckoned with and we don't think we'll ever part ways with it.
Despite what you may see in the street style sections on glossy fashion magazine pages, the truth of the matter is that most people, namely millennials, are turning towards minimalism increasingly.
Minimalist Style Tips For Simplified Fashion And Beauty
Written by guest writer Mia Taylor
By minimizing the number of things they own, whether clothing garments, furniture, and even beauty and grooming products, this generation is leaving more room for their disposable income.
Income that can be poured into travel, good diet, exercise and the general pursuit of wellness and happiness.
So, if you've been mulling over the idea of crossing over to the minimal side, you're in luckl!
Because everything you need to know is right here within these minimalist style tips.
Quality Over Quantity
When it comes to clothing, the rules of minimalism are fairly straightforward and you'll have no trouble abiding by them.
Yes, it may take some time to get used to having a well-curated wardrobe that's all about quality.
As opposed to a plethora of items, but once you get that clean slate you'll feel (and look) much better.
If you've been a fashion hoarder, the first thing you simply must do is give away, sell or donate all the items that you either haven't worn in a year, don't fit you well or simply clash with the principles of minimalistic design.
Now, in order to establish what has to go, you must first learn what minimalistic garments are all about.
A Simplified Closet
Minimalism revolves around simple silhouettes and cuts, items that are deceptively simple but actually take plenty of effort to design.
There are no busy prints, unnecessary embellishments in the form of embroidery, splashes of color or any other 'pizzazz' element you can think of – just simple clothing that is well made.
Speaking of which, when choosing your future clothes, quality fabrics are the number one priority.
Timeless cuts and design will stand the test of time and weather the current trends, but if you're already making the investment, it's essential that you choose quality fabrics as well.
This is so that your clothes actually physically last you a very long time.
The next in line is the color palette.
A true minimalist knows that everything in their wardrobe needs to cooperate in order to create an infinite number of amazing outfits using a finite number of items.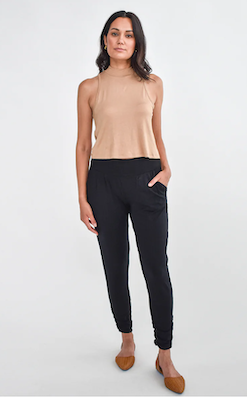 This is why they always opt for garments and accessories that come from a neutral color palette – black, white, grey, navy, camel and beige.
And for a pop of color, something along the lines of teal, burnt orange and maroon.
We love these capsule wardrobe brands for quality neutrals:
All About The Fit
Finally, it's vital that the items you choose fit you perfectly as this is the final pillar of minimalism – all about the fit.
As far as specific items go, think in terms of:
simple black dresses
plain tees
dark wash straight-leg jeans
a moto vegan-leather jacket
a classic trench coat
culottes with a simple checkered print
crew sweaters
Breton tops
blazers
white button-downs
classic totes and solid crossbody bags
sling-backs, loafers and oxfords for footwear as well as classic pumps.
White tennis shoes are always welcome, and as for jewelry, keep it toned down – golden or silver structured jewelry and in small amounts in one outfit.
This way, everything you decide to mix and match will always result in the perfect chic and effortless outfit that you've put together with time to spare.
Have you downloaded your free copy of our Capsule Wardrobe book yet? Get it here:
Don't Forget Your Simplified Skincare Routine, Too
Yes, minimalism in grooming is also a real thing, and the key to perfect skin doesn't have to involve a 12-step Korean skincare regimen.
It takes only a few well-chosen, high-quality products and a simplified routine that you will always stick to in order to achieve that perfect complexion.
The evenings call for a double cleanse – remove your makeup with micellar water and then proceed with a wash. Choose these cleansers according to your skin type or possible skin issues and concerns.
Then, introduce a serum.
This is a light-weight product that contains more active ingredients than any moisturizer on the market and it needs to be a part of your life.
A deeply hydrating hyaluronic acid serum is your best investment as this acid is already present in your body, so you know that it will only bring extra hydration and not irritate the skin.
Finish things off with a moisturizer as you need something to lock everything in moisture, and go to sleep.
With a great evening routine, the morning calls for only a splash of water on the face and the application of a daily moisturizer with a high SPF and you're done.
Steal Our Simplified Makeup Routine
The beauty industry is one worth $445 billions, and new foundations, eyeshadow palettes, lipsticks, highlighters, etc. are released every day and good marketing makes us believe that we need each new item that pops on the market.
No, we don't. What you need are caution and pickiness.
Test out different foundations, find the perfect one and stick to it.
The same principle applies to mascaras, eyeshadows, and lipsticks.
You know which colors look good on you, so pick one palette – preferably a nude one (easiest to work with) – and don't add more into your cart.
Minimalism in makeup isn't only about purchasing few products but applying the minimal amount as well.
What you're going for is an easy, effortlessly striking makeup look and for that, less is always more.
A touch of foundation, your most flattering lip color, a little eyeshadow and mascara and possibly a touch of bronzer to bring warmth to the cheeks.
That's it. Your makeup will be done in five minutes and you'll be out the door, living your life, looking stunning while barely trying to.
Oh yes, and if you buy tampons, make sure they are organic!
Minimalist Style Tips For Simplified Fashion And Beauty – Conclusion
Now go, clean out that closet and vanity, shop wisely and make good minimalist decisions.
Next, download your free copy of our Capsule Wardrobe book: