Blume is a subscription box offering organic tampons and self-care items for your time of the month.
Why is this important? Because women spend more than a third of our lives having a cycle. And the drug store period products are NOT organic, in fact, they are often full of chemicals.
Blume is packed with organic period essentials like non-toxic organic tampons and pads, as well as cruelty-free and vegan beauty and self-care products.
Your period is a special thing. Treat it right!
Best Non-Toxic Organic Tampons That Deliver To Your Door
Do you loathe having to go to the store and buy tampons in person? Me too.
Blume solves this, by delivering organic tampons directly to your front door.
Blume Organic Period Subscription Box Mission
Self care is the new going out. Blume represents today's generation of confident, tenacious and conscious young women. Safe, sustainable products are big for us. Shop period and self-care products today.
What Is In The Blume Organic Period Subscription Box?
The Blume $38 Self-Care Bundle includes a variety of self-care items. You can pick and choose what you want, and how often you want it delivered.
What Else Can You Get At Blume?
Here's what you can get at the Blume online shop.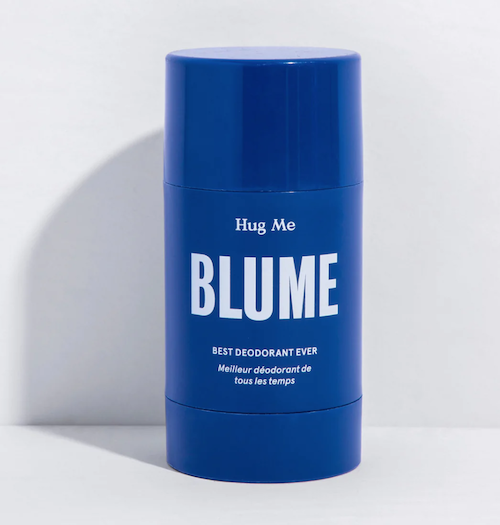 Hug Me Deodorant, 2.5 oz. — Retail $12
Organic • Cruelty-Free • Vegan
This item could have gone one of two ways. I think we have all experienced 'natural deodorant regret' at some point, after trying one that failed to suppress our smells.
This is not one of those.
I was so happy to discover that Hug Me deodorant actually works!
Containing only a few simple ingredients, this natural, cruelty-free stick deodorant does what its supposed to, and keeps you smelling lovely all day.
Blume Hug Me deodorant is hardworking and good to wear all day, every day. This is a natural deodorant you DO NOT have to reapply every two hours. Our secret ingredient: probiotics. Keeps you fresh for 24 hours.
The New York Post declared Hug Me Deodorant as the #1 Natural Deodorant. Not bad!
Ingredients: Organic Coconut Oil, Organic Corn Starch, Baking Soda (naturally aluminum-free), Wild Crafted Candelilla Wax, Organic Jojoba Oil, Shelf Stable Probiotics
Plus its: BPA free, gluten free, aluminum free, paraben free, alcohol free, no added fragrance, vegan, cruelty-free, organic
Day Dreamer Super Gentle Face Wash, 4 fl oz. —Retail $14
Organic • Cruelty-Free • Vegan
Day Dreamer is a super silky-soft face wash in a handy little push-top bottle. Leaves skin soft, glowy, and moisturized.
Gentle, moisturizing and purifying cleanser formulated using moor and soothing plant extracts including jojoba, chamomile, lavender and geranium. Lifts away surface impurities while hydrating the skin and visibly diminishing redness.
Ingredients: Aqua, Olea Europaea (Olive) Fruit Oil, Cocos Nucifera (Coconut) Oil, Stearic Acid, Stearyl Alcohol, Caprylic/Capric Triglycerides, Sodium Cocoyl Isethionate, Ilex Aquifolium (Holly) Leaf Extract, Heilmoor Clay, Macrocystis Integrifolia (Giant Kelp) Extract, Glycerin, Arginine, Natamycin, Citrus Grandis (Grapefruit) Seed Extract, Perilla Ocymoides Leaf Extract, Acorus Calamus Root Extract, Arnica Montana Flower Extract, Ormenis Multicaulis (Chamomile) Flower Extract, Lavandula Angustifolia (Lavender) Oil, Pelargonium Graveolens (Geranium) Flower Oil
Plus Its: BPA free, aluminum free, paraben free, sulfate free, alcohol-free, no artificial fragrance, no petroleum-derived ingredients, cruelty-free, vegan
Meltdown Blemish Treatment, 0.5 oz. — Retail $26
Organic • Cruelty-Free • Vegan
Meltdown is the perfect name for this blemish oil.
Pimples have met their match. This all-natural formula stomps out spots so your skin looks blemish-free all month long.
Give your zit a meltdown so you don't have to have one. This powerful blend of natural ingredients takes down pimples overnight. You can also apply this when you feel a spot is about to erupt to prevent it from ever seeing the light of day!
Ingredients: lack Cumin Seed Oil, Rosehip Oil, Tamanu Seed Oil, Rosemary Leaf Extract, Comfrey Extract, Olive Leaf Extract, Chamomile Flower Oil, Helichrysum Oil, Lavender Oil.
Plus its: BPA free, gluten free, aluminum free, paraben free, alcohol free, no added fragrance, vegan, cruelty-free, organic
Organic Tampons!
Of course, Blume stocks premium organic tampons!
You wouldn't want to put a non-organic drugstore brand tampon full of toxins and chemicals into your most absorbent area (your vagina) would you?
I think not. Organic tampons made from 100% organic cotton, is the only way to go.
Blume tampons are made of ingredients you can actually pronounce, like 100% organic cotton. No mystery ingredients. A soft outer layer + an absorbent and leak-proof inner layer = the best tampons ever.
Available in both super and regular so you can use the products right for you. Plus choose between plastic or cardboard applicators.
Stock up on tampons here and pads here.
Applicators made of: Bio-plastic tampons applicators are made with 90% sugar cane and 10% plastic these tampon applicators are similar to normal plastic applicators but better for the environment.
Cardboard tampon applicators are similar to a plastic applicator in shape and size, but made of cardboard and are 100% biodegradable, making them the environmentally friendly applicator option.
Could 9 PMS Oil
An essential oil roll-on made just to tackle PMS! This helps ease bloating, cramping and even headaches.
Ready To Try Blume Organic Tampons and self-care items for yourself?
==> Discover all Blume has to offer right here!
Love This Post?
I'd love it if you shared it / pinned it!
Follow my cruelty-free board on Pinterest for more.
More Beauty / Lifestyle Resources
Get A Free Copy Of My Capsule Wardrobe Planner!