Welcome to the insider's list of the best womens capsule wardrobe brands.
These brands offer the best and highest quality sustainable clothing for your personal capsule collection.
We've sourced brands that use sustainable and luxurious organic fabrics, and have a positive impact in the planet. While offering refined, classic tailored designs to suit your all-season wardrobe.
Get ready to upgrade your closet with these best capsule wardrobe brands today!
5 Best Womens Capsule Wardrobe Brands
Don't you just wish there was a shop that sold done-for-you capsule wardrobes, where everything in the collection went together?
Well, at Vetta Capsule you can! Vetta offers complete 5-item capsule wardrobes, where each set can create 20+ outfits.
I am in love with the quality of the material. And, the clothing I ordered smelled amazing, too!
Vetta is certainly one of the very best capsule wardrobe brands.
There are a number of capsule collections to check out at Vetta. My favorites are the Casual Capsule, the Wander Capsule and the Utility Capsule.
==> Use this link and code CustomCapsule5 to save $100 off at Vetta Capsule.
---
When it comes to sustainable capsule wardrobe brands, Pact is your go-to resource for basics made with organic cotton.
The T-shirts are oh-so-soft!
You will definitely want to stock up on their organic cotton leggings, too.
---
The WVN catalog is big!
You will find sustainable organic cotton pieces for every occasion here.
From cozy sweats to wear at home, to classy workwear, to flirty dresses for a night out.
There are also a number of items that would be perfect for a French-girl-chic style capsule wardrobe to be discovered here.
---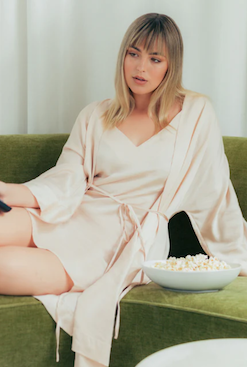 Every good capsule wardrobe includes items for chilling at home.
And, Ettitude is my absolute favorite place to buy organic bamboo loungewear.
(Also, my favorite place to buy organic bamboo bedding!)
You will feel super luxurious in their sateen robe.
---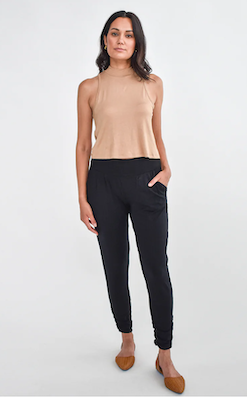 Before I owned my own company from home, I used to work in an office. I always hated how uncomfortable typical workwear was, and couldn't wait to get home and change back into my comfy sweat pants.
I wished I could wear leggings and sweatshirts to work, if they weren't so unprofessional-looking.
How amazing would it be if someone invented something in between?
Clothing that looked tailored and professional, but was actually as comfortable as sweat pants?
…Enter, Encircled!
Encircled has solved the work-wear comfort dilemma, by offering clothing that looks like workwear but feels like pajamas!
The Dressy Sweatpants have taken the Internet by storm – and made my life so much easier. I have two pairs! They are a capsule wardobe must-have for sure.
But you will also find tops, dresses and even blazers for your capsule wardrobe here. Each that function as workwear but feel like loungewear.
We appreciate that Encircled clothing is locally-made within 60km of their studio in Toronto, Canada, too.
5 Best Womens Capsule Wardrobe Brands – Conclusion
Which of these capsule wardrobe brands will you try today?
Get a free copy of my Capsule Wardrobe planning book below!