Welcome to the insider's list of the best women's capsule wardrobe brands.
These brands offer the best and highest quality clothing for your personal capsule collection.
We've sourced brands that use sustainable and luxurious organic fabrics, and have a positive impact on the planet. While offering refined, classic tailored designs to suit your all-season wardrobe.
Get ready to upgrade your closet with these best capsule wardrobe brands today!
I love capsule wardrobes, and I can talk about it all day. They are simply the best way to build a functional, stylish, sustainable wardrobe. In this blog post, I will share my 15 favorite capsule wardrobe brands worth your time and money.
What Is A Capsule Wardrobe?
A capsule wardrobe is a small collection of high-quality clothing that can be mixed and matched to create multiple outfits.
A capsule wardrobe is a small, timeless collection of clothing that can be mixed and matched to create multiple outfits. It's the perfect way to streamline your closet and make getting dressed daily a breeze. 
It is the perfect way to build a timeless, stylish, and sustainable wardrobe.
The Importance Of A Capsule Wardrobe
The key to a successful capsule wardrobe is to invest in high-quality pieces that will stand the test of time. This means buying fewer items you will love and wear for years.
One of the best things about a capsule wardrobe is that it forces you to be more creative with your styling. With a smaller number of clothes, you have to get creative and experiment with different ways to style each piece.
This can help you develop your style and learn what looks good on you.
Another benefit of a capsule wardrobe is that it is more sustainable than a traditional wardrobe.
Investing in high-quality pieces makes you less likely to throw away clothes after a few wears, and this helps reduce your wardrobe's environmental impact and is better for your wallet in the long run.
Now that we've gone over the benefits of a capsule wardrobe let's look at some of the best brands to buy from.
The Best Capsule Wardrobe Brands For A Timeless Closet
There are many different capsule wardrobe brands, so it can be tough to know where to start.
To help you out, I've rounded up more than 15 of the best capsule wardrobe brands for building a timeless closet full of versatile pieces that you'll love wearing again and again. 
That's why we've rounded up the best of the best, so you can build a capsule wardrobe that stands the test of time.
No matter your style, you can create a capsule wardrobe that is chic, stylish, and timeless from these brands.
Here are the best capsule wardrobe brands to shop:
15+ Best Women's Capsule Wardrobe Brands
1. Vetta Capsule
Don't you just wish there was a shop that sold done-for-you capsule wardrobes, where everything in the collection went together?
Well, at Vetta Capsule you can! Vetta offers complete 5-item capsule wardrobes, where each set can create 20+ outfits.
I am in love with the quality of the material. And, the clothing I ordered smelled amazing, too!
If you are looking for modern, stylish pieces that stand the test of time, then look no further than VETTA. 
VETTA's clothing is made from high-quality materials that are designed to last. Their clothes are also incredibly versatile;
Every piece in my capsule mixed and matched seamlessly, making getting dressed each morning a breeze. 
Vetta's collection consists of a 5 piece capsule with staples that can be mixed and matched to create 30 pieces, yes, 30 pieces.
I love everything about Vetta's capsules; why? The clothes are convertible!!!
My absolute favorite blazer is the convertible blazer in the MOD collection. It functions as a blazer and a vest.
You can wear it as a blazer, zip off the sleeves, and wear it as a vest. Talk about versatility.
Vetta is certainly one of the very best capsule wardrobe brands.
You are sure to find a style that suits you.
There are a number of capsule collections to check out at Vetta. My favorites are the Casual Capsule, the Wander Capsule and the Utility Capsule.
It's for these reasons that Vetta tops our list of the best capsule wardrobe brands.
==> Use this link and code CustomCapsule5 to save $100 off at Vetta Capsule.
---
2. Pact
When it comes to sustainable capsule wardrobe brands, Pact is your go-to resource for basics made with organic cotton.
The T-shirts are oh-so-soft!
You will definitely want to stock up on their organic cotton leggings, too.
---
3. Ettitude
Every good capsule wardrobe includes items for chilling at home.
And, Ettitude is my absolute favorite place to buy organic bamboo loungewear.
(Also, my favorite place to buy organic bamboo bedding!)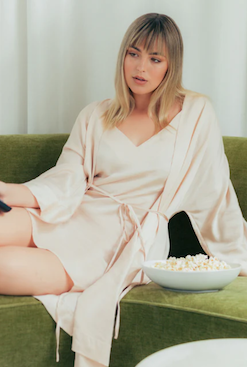 You will feel super luxurious in their sateen robe.
4. Encircled
Before I owned my own company from home, I used to work in an office. I always hated how uncomfortable typical workwear was, and couldn't wait to get home and change back into my comfy sweatpants.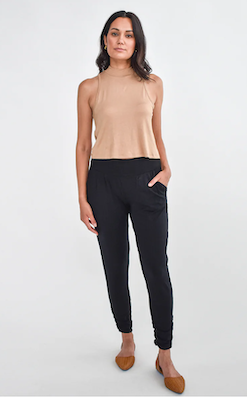 Back then, I wished I could wear leggings and sweatshirts to work, if only they weren't so unprofessional-looking.
How amazing would it be if someone invented something in between?
Clothing that looked tailored and professional, but was actually as comfortable as sweatpants?
…Enter, Encircled!
Encircled has solved the work-wear comfort dilemma, by offering clothing that looks like workwear but feels like pajamas!
This ethical Canadian brand is a must-have for your capsule wardrobe.
Their pieces are comfortable and versatile, plus they offer kits and collections, so you have the option to shop easily for the season or occasion.
The Dressy Sweatpants have taken the Internet by storm – and made my life so much easier. I have two pairs! They are a capsule wardrobe must-have for sure.
But you will also find tops, dresses, and even blazers for your capsule wardrobe here. Each that function as workwear but feel like loungewear.
We appreciate that Encircled clothing is locally-made within 60km of their studio in Toronto, Canada, too.
5. ADAY
Aday is the capsule wardrobe solution for busy women on the go. Their capsule wardrobe comprises pieces that can be mixed and matched to create over 60 different looks. The pieces are made from high-quality fabrics that are wrinkle-resistant and machine-washable.
Plus, they ship right to your door.
Not only are the pieces versatile, (like the pants that turn into a skirt, pictured above) but they are also sustainably sourced and an excellent choice for a capsule wardrobe.
They carry sizes from XM to XL, plus 30 days for returns and exchanges.
If minimalistic is your style, then ADAY is for you.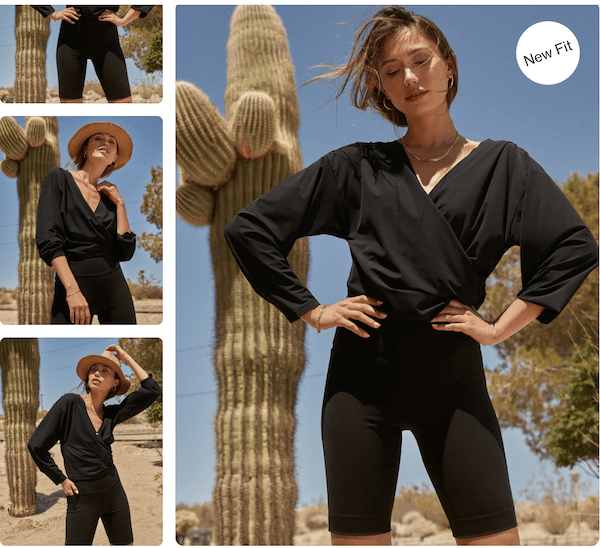 My favorite piece is the "That's a wrap top" pictured above, which can be worn in multiple ways. 
6. Amour Vert
Amour Vert is a well-known sustainable brand that offers beautiful, timeless designs.
They offer feminine pieces and aim to create beautiful, timeless clothing while lessening the fashion industry's impact on the environment. They achieve this by sustainable sourcing materials like Tencel and organic cotton, which use far less water and land than traditional fabrics like polyester.
Plus, they plant another for every tree used in their clothing production. So far, they've planted over 600,000 trees!
But sustainability isn't the only thing that sets Amour Vert apart from other brands. Their clothes are also insanely chic, and I'm talking French girl style that looks straight off the runway…but doesn't break the bank.
My favorite is the Cara Reverie knit Tee; it's the perfect basic that goes with everything but feels unique thanks to the delicate silk-screened floral design.
I have it in black and white, but I might need to add the rose and ivory to my collection soon.
And of course, you must check out their beautiful collection of washable silk styles!
7. Able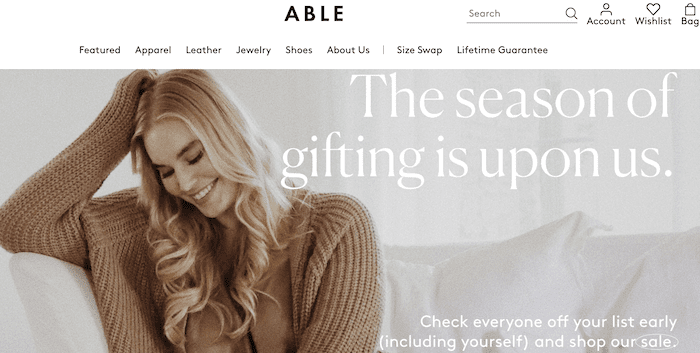 At Able, you will discover lots of versatile pieces that are ethically made.
I got this cute jumpsuit, which I wear when I don't want to think about putting an outfit together.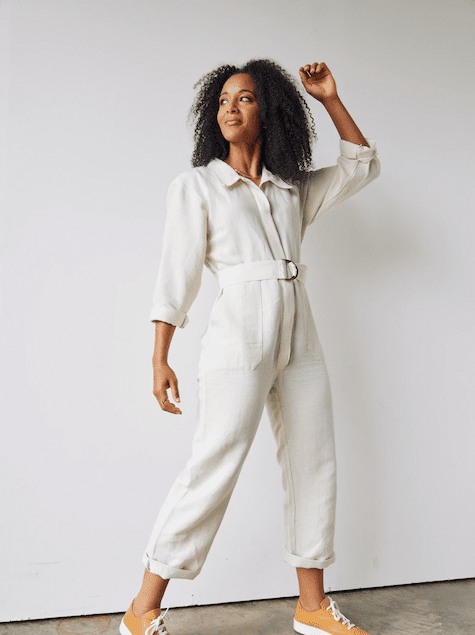 You can also shop for their handbags, jewelry, and shoe collection. And the best part? Their clothing comes with a lifetime guarantee. 
8. Mango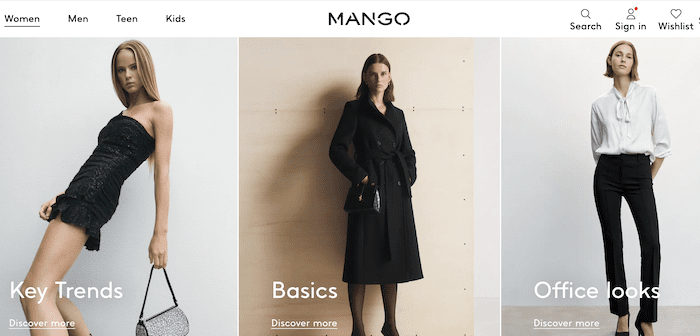 Mango has a lot of impressive, unexpected outfits.
Mango is a great option when you want to build a capsule wardrobe because they have a lot of modern basics that will last you for years to come.
They carry sizes XS-XL, with some pieces going up to XXL.
They also have a pretty good return policy too.
I love Mango because they always have the latest trends while maintaining a classic, timeless feel
This oversized knitted coat from mango has been my go-to staple from my wardrobe this winter.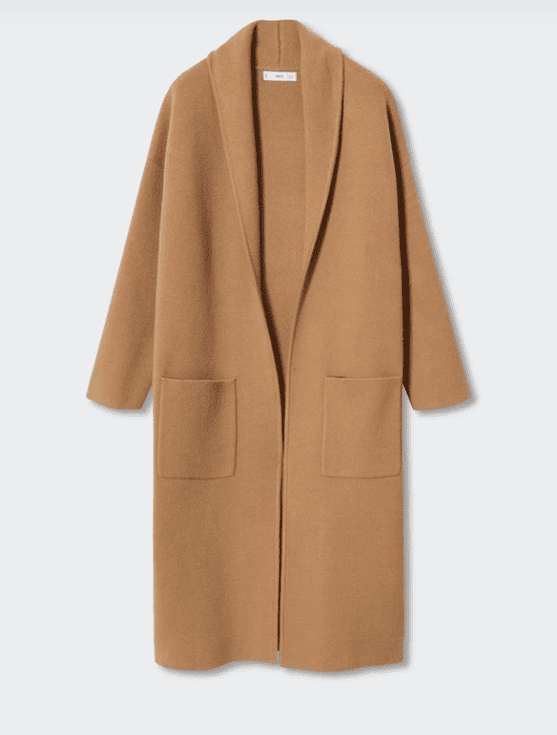 It's oversized and cozy and fits nicely with other outfits in my wardrobe, making it an excellent addition to my capsule wardrobe.
9. Quince
If you love cashmere sweaters, Quice is the brand for you.
They have a great selection of cashmere sweaters in various colors and styles. They're all made from 100% pure cashmere, so you know they'll be soft and cozy.
They also carry other everyday staples, so you will find something that suits your style.
10. Cuyana
If you're looking for high-quality, minimalist pieces with timeless designs, then Cuyana is the perfect option for you.
They have a great selection of basics like tees, tanks, and sweaters, as well as more unique pieces like statement earrings and gorgeous handbags.
Plus, everything is made from high-quality materials that will last.
They believe that the fewer, the better, so they aim for pieces that fit together seamlessly.
11. Jenni Kayne
Jenni Kayne is your go-to for that luxurious capsule collection that will make you feel like a million bucks.
They have everything from everyday basics to party-ready dresses, making their pieces from the highest quality materials.
Jenni Kayne is definitely on the pricier side, but their pieces will last you for years,s plus not to forget the versatile pieces.
I got this cashmere cocoon cardigan that I can go anywhere without; it pairs beautifully with jeans or a dress.
My fave dress from Jenni Kayne is this best-selling slip dress. Go check it out.
12. Cos
I discovered Cos when I was looking to switch up my capsule wardrobe, so I tried their short-sleeved midi shirt dress, which I love.
Cos is a sustainable brand with a great selection of modern, minimalist pieces that are perfect for building a capsule wardrobe.
Everything is exceptionally well-made and will make for a great curated capsule wardrobe collection.
13. Eileen Fisher
This list of the best capsule wardrobe brands would not be complete without Eileen Fisher.
She is the OG when it comes to capsule wardrobes. Her designs are timeless and made to last.
I have this pair of black pants from Eileen fisher that I've had for years, and they still look brand new.
They offer a great selection of everyday basics, more unique pieces, and different capsule collections that you can choose from.
14. Everlane 
Everlane is an amazing brand for finding high-quality, sustainable pieces. This is one brand that has it all, quality, style, and ethics. Everlane is one of the leaders in the ethical fashion space, and its commitment to quality is evident in every piece they produce.
Everlane only works with the best factories in the world, and their goal is to create beautiful basics that will last a lifetime. Every piece in their collection is designed to be mixed and matched so that you can create endless outfit possibilities.
I love Everlane because their clothes are not only stylish and well-made, but they're also affordable. You can spend a little money to get high-quality, timeless pieces from this brand.
It is known for its timeless basics and is an excellent option for shopping for your capsule wardrobe.
Their clothing is modern and minimalist but still timeless. Plus, they use high-quality materials and construction, so you know your clothes will last.
Overall, the brand's clothes run true to size, with excellent quality that feels sustainable and durable, plus their prices are fair across the board.
 If you're looking for modern basics that will last you for years to come, Everlane is worth checking out!
15. Aritzia
If you want something not too minimalistic, Aritzia is for you. Aritzia is known for its stylish where-anywhere pieces. Another great thing about Aritzia is you can easily transition most of their pieces from casual to work outfits.
I got this Sculpt knit sweetheart long-sleeve, and I've been able to pair it with a blazer or jeans for a casual look.
One thing to note is that their clothes run small, so I suggest sizing them or trying them out before buying.
16. Vince
Last but certainly not least is Vince. There is no missing with Vince, only hits. The designs are timeless and luxurious.
I have this pair of cigarette trousers that I wear all the time; they are so comfortable with a perfect fit.
Vince also has a great selection of sweaters, dresses, and jumpsuits.
15+ Best Women's Capsule Wardrobe Brands – Conclusion
Which of these capsule wardrobe brands will you try today? There are many capsule wardrobe brands that can help you build a timeless closet. However, the many women's capsule brands listed in this article are some of the best.
These brands offer quality clothing that will last for years and a variety of styles that will suit any taste. If you are looking for a capsule wardrobe brand that can help you build a timeless closet, these 15 brands are a great place to start.
Get a free copy of my Capsule Wardrobe planning book below!